LetterStream API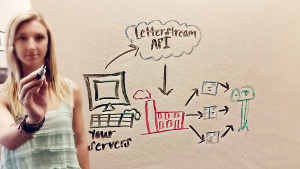 At LetterStream, we've got a little problem... we like building cool things!
If you're reading this, it probably means that you're a software developer and you know just what were talking about! We also like to share our cool tools with others so if any of the following sound familiar, you're in the right place.
I have an existing website/application in which myself or my clients need the ability to send postal mail easily.
I already collect payment from my clients.
I produce and or have electronic access to the documents that I or my clients want to mail.
Further, I have access to the sender/recipient data that accompanies those documents.
I am, or have a qualified software developer who can modify my code to sucessfully implement a web-based API.
If this sounds like your situation, give us a call!
Want some more perspective? Read about us in CIO Review
Partnership Benefits
With a LetterStream API Partnership you can quickly and easily provide your customers with access to our highly automated mail processing services. Your customers can quickly and easily send postcards, first-class letters (in both #10 and large flat envelopes) and certfied postal mail. All of this without ever leaving your software. To your users it can be as simple as clicking a button.
How It Works
Speak to one of our API specialists
Download and read our API documents
Write some code (examples provided!)
Thrill your customers by providing them such a great service!