First Class Letter Options

Windowed Letters
Each recipient gets something slightly different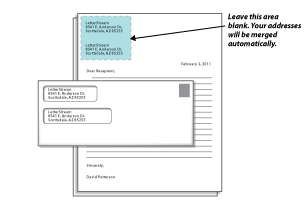 Features
Addresses are on the document.
The addresses show through the windows of the envelope. (Coversheet option available at additional cost)
Often used for Bills and Statements
CSV file can be provided OR
Data can be already merged into the document by you
#10 (standard business size) envelope with two windows for document content to show through.

Letter Highlights
Our mail making tools have so many options, the best way to sort through the pieces and options is to simply get started. Decide which letter type best fits what you have and click Get Started.
You will have the ability to print on one side or both sides of paper; choose between white, a multitude of colors, even pre-perforated paper; decide whether you want black and white or full color printing; easily add return or remittance envelopes to your mailing with or without a pre-applied postage stamp; add an eye catching message to the outside of the letter; our letter tools were designed to handle most business letter mailings.
Pricing Options -- So Many !
Add $.06 for additional side black and white printing.
Add $.12 for additional sheet with black ink on one side.
Add $.03 for color paper
Add $.20 per printed side for full color printing
Add $.15 for a return envelope
Add $.86 for a return envelope with a first-class stamp
Add as many sheets as necessary.
Add $.24 for each additional ounce (we'll help you determine that)