Our Products
Create your mailing now
Whether you are starting with a print ready PDF file or you have a CSV formatted mailing list, we offer a variety of tools that allow you to create the letter of your choice. And we are always here to help you through the process.
Outer envelope options include windowed and non-windowed printed envelopes. Our tools allow you to include additional documents to be inserted into your mailing as well as providing options to include return envelopes. Whatever your request, we will work with you to provide a fast, easy and cost-effective solution.
Certified Mail is a domestic postal product in which the sending and receipt of a letter or large envelope are tracked and recorded.
#10 Three Window Envelope
We offer a variety of tools that make the process fast and simple.
Thick Packet (Flat) Certified Envelope
We even offer Certified Flats when you need to send a large number of pages via certified mail!
Fast and efficient
Postcards offer an economical alternative to letters in some cases. Available in both color and black and white printing, our postcards are printed both sides on quality cardstock. You simply need a CSV formatted mailing list to get started.
Read about how some of our customers are using postcards in smart ways to reduce their expenditures and give thanks to those who deserve it.
When a normal mailing just won't fit.
When you have a thick packet of material to mail, a flats mailing (large 9"x12" flat envelope) generally does the trick.
Flats envelopes are capable of holding up to 75 sheets of paper and can be mailed first-class or certified.
Stop wasting money sending undeliverable mail.
Undeliverable mail is a costly problem. Our address list cleanup and verification services can help you eliminate this expense.
See more information about mailing list cleanup, or log in and choose the Address Cleanup option.
Keep your cash-flow coming.
Payment coupons can be complicated and frustrating to create, so we've created simple to use coupon solutions.
Simply upload a CSV formatted mailing list to get started. Our tools will walk you through a few simple steps and the coupon headache will be gone before you know it.
Ballot and Proxy Mailings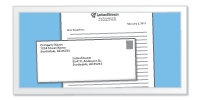 Donor Mailings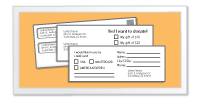 HIPAA and Privacy Mailings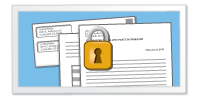 Automate your check printing process.
Sending high quality, secure payments can be automated by utilizing any one of our many check writing products. Our solutions are secure, accurate and fast.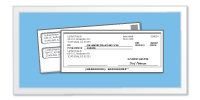 Extreme speed and precision!
If you need to get a letter out right now and you need it delivered in a hurry, this is the product you need to use. Sure, it may cost you a little more, but not only will we mail your documents via FedEx 2nd Day Delivery, we'll print them too! This will get your documents to their destination in 2 business days. We can print and send up to 40 pages (additional fees apply for extra pages), just make sure your document is ready for us to print by 3 pm Arizona time.
Registered Mail
It's like Certified Mail for other countries
Registered Mail is very similar to Certified Mail except it has tighter internal controls at the Post Office and it is available for every country in the world. We provide online proofs, online tracking and online signatures all wrapped in our quick-and-easy process.