Our Products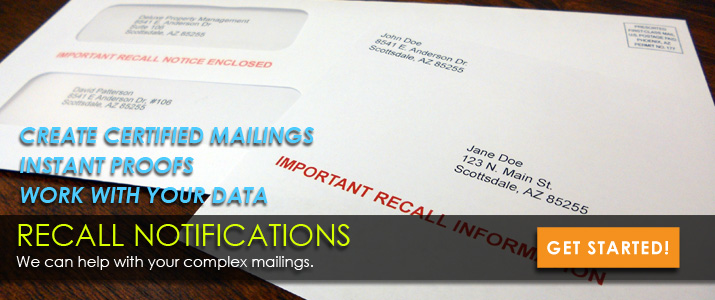 Certified Mail Recall Notices Made Easy
Sending recall notices via certified mail can be a daunting process; certified mail bar code labels, return receipt green cards, addressing, printing, folding, stuffing, trips to the post office. The idea of these tasks often causes people and organizations to take more time than necessary to get urgent recall information into the hands of their customers.
LetterStream's online certified mail process eliminates all the headaches of getting your certified letters out the door. In addition, all USPS tracking scans are captured and reported online as well as every return receipt signature that the USPS is able to capture.
Imagine getting your recall mailing sent out within a day or two of your request without handling a single envelope or certified mail label. Your job can be created online, approved online, and tracked online while we print and mail every certified letter with ease.
Don't let your urgent recall notice linger, contact us and speak with one of our certified mail experts today and learn how outsourcing your certified mail makes sense.
Certified Mail Regulations for FDA Compliant Recall Notices
The FDA has published standards for product recalls that fall under the US Food and Drug Administration's jurisdiction. LetterStream's process is extremely effective in helping organizations comply with the FDA process for sending Certified Mail.
The FDA Regulatory Procedures Manual states: "Recall communications should be sent in the most expeditious manner and commensurate with the hazard of the product being recalled, and, where appropriate, sent with proof of receipt (e.g., by certified mail). All communication methods related to the firm's recall should be documented accordingly." Some suggest that "proof of receipt" means that a USPS Return Receipt is necessary either in green card or electronic versions.
For more information visit www.letterstream.com/fda-recall-compliance.